French doors are named after their origin in France, where they have been a popular door style for centuries. They were designed as hinged doors to allow more natural light into rooms when electricity had not yet been invented. Exterior French doors would be a great option to add a stylish entrance to your home. You can choose between materials like wood or vinyl and customize the hardware and other decorative elements to create a modern or traditional look. French doors are an ideal option for Florida coastal homes. But let's start with the basics.
What are French Doors?
A French door is a type of patio door hinged on the side and can swing open and closed. They are sometimes called hinged patio doors. These doors bring plenty of natural light into your home, often with decorative grilles. They are an excellent option for rooms with large windows and add a touch of beauty. A four-panel sliding patio door is another style of French patio door. It consists of fixed panels on both the left and right sides, while the two doors in the center slide outward towards the fixed panels. A sliding patio door that divides in the middle looks and feels similar to a French one, which is more common.
What Materials Are Available for French Patio Doors in Coastal Homes?
Wood French Door
Wooden French doors are highly energy-efficient and come in various styles to match your home decor. You can find these from Marvin (see their Ultimate Wood Swinging French Door) and other manufacturers and product lines from All Glass & Windows, which offer traditional and modern designs. Additionally, wooden French doors are customizable, allowing you to design them precisely per your preferences.
Fiberglass French Door
Product lines offering durable fiberglass sliding French patio doors give consumers multiple options. These French patio doors can come in a four-panel design, providing reliable performance and classic aesthetics. These doors are also available in different contemporary colors, including black, and are appropriate for any weather condition, making it easy to maintain a cozy indoors throughout the year.
Aluminum French Door
Our manufacturers offer heavy-duty aluminum French doors, which are non-impact products engineered to deliver lasting quality and easy maintenance. Elevate the style and beauty of your patio, primary bedroom, and more with an aluminum French door. This material is engineered to withstand salt water, heat, light, and moisture corrosion. Windoor's 450 Estate series impact French Patio Doors create grand openings for your home. They include a standard stainless steel package and a patented 3-point lock system.
Vinyl French Door
Vinyl French doors are a sturdy and reliable choice for your home. PGT offers hinged vinyl French patio doors in the Winguard product line, providing exceptional protection. In addition, multiple manufacturer product lines offer energy-efficient options for sliding French patio doors made from a unique vinyl formula. Finally, you can personalize your vinyl French doors by selecting various frame colors and grille patterns.
French Door Hardware Materials
Regarding French door hardware, there are various choices, like keyed locks, handles, deadbolts, and more. You can also customize the grilles or choose from many pre-made designs. The finishes of your hardware should match the style of your home and create a modern or traditional look. French doors are a secure and safe option for your home, thanks to the locks, handles, and hardware that come with them. The hardware on the handle is used to lock French doors, but depending on the manufacturer, some French patio doors have extra security options, such as multi-point locks.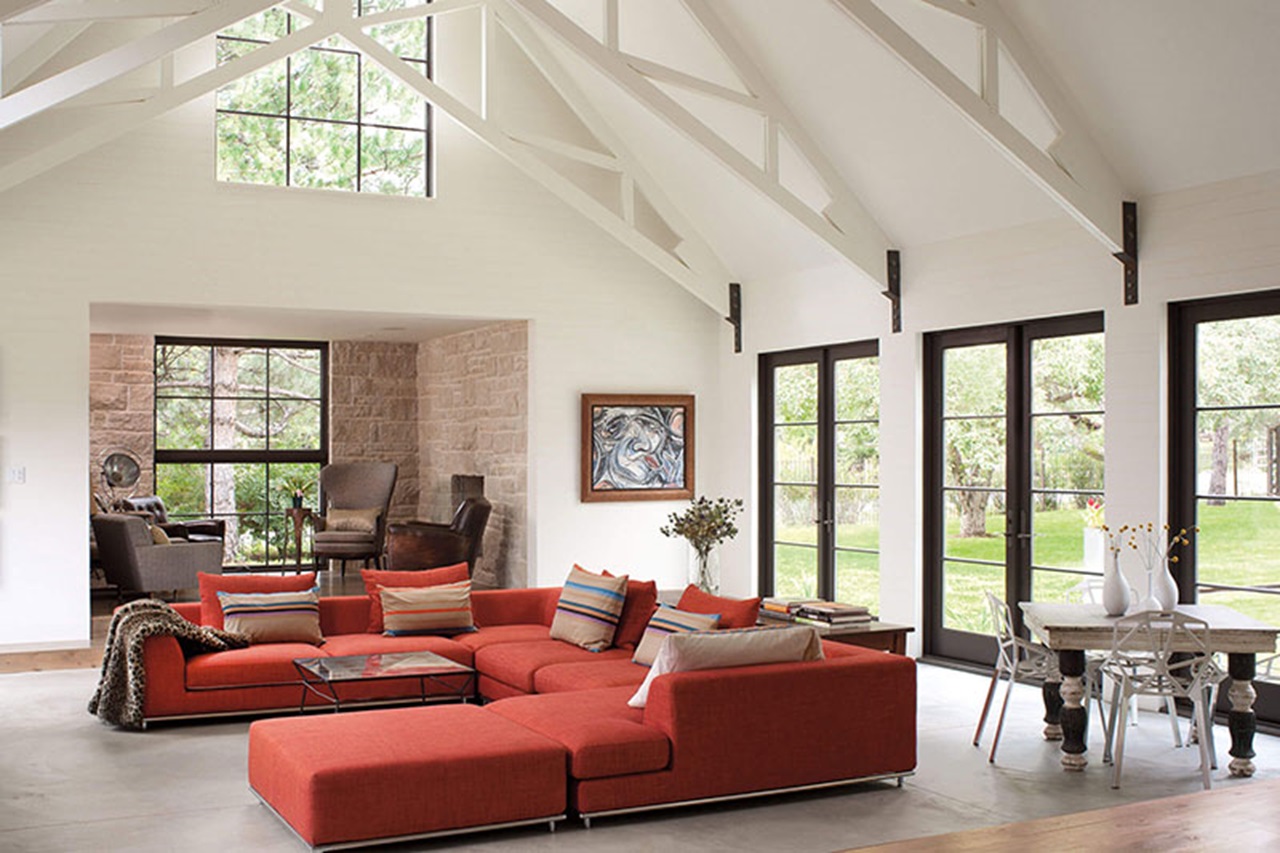 Types of French Doors
If you're trying to decide on a French door style for your home, you might wonder which type is the most suitable. Many excellent options are available based on your home's needs, including classic single-door panels, double-door panels, or even sliding French doors.
Single-Hinged French Door:

This is the traditional style. It has a single door that swings in or out and can be customized to match your decor.

Double-Hinged French Door:

Two doors are attached by one hinge, allowing both panels to swing outward or inward. They come in various sizes and are often used as entryways into a garden or patio area.

Folding French Door:

This style has several panels connected and folds away when opened. It's perfect for wide openings, as it only takes up a little space.

Sliding French Door:

Instead of swinging out or in, sliding French doors glide horizontally. This style is excellent for tight spaces but looks elegant and offers a more extensive view than other door designs.
French Doors with Blinds and Shades Protect Your Home from the Florida Sun
French patio doors can come with built-in blinds and shades between the glass, providing extra security and privacy for your home if you add them. These blinds and shades enhance the design of your home while being kept safe from dust, dirt, and damage. With many options, you can find the perfect French patio door with built-in blinds that fit your home's style.
French Door Screen Options Provide Ideal Ventilation
You can add optional screens to French patio doors to prevent bugs and debris from getting inside while still enjoying the fresh air. Some aluminum screen doors can open outward and feature high-transparency screen cloth for in-swing French doors. In addition, as an optional feature, you can request sliding French patio doors with a retractable screen. This eliminates the need to remove and store screens during certain seasons. The retractable screens have soft-close retraction and are stored inside the door frame, so they are not visible when not used. This feature allows more airflow and light to enter your home.
Classic and Modern French Door Styles for Florida Residences
French patio doors can fit well in traditional and modern homes depending on the features and options like hardware and grille profiles. Opt for brass or bronze hardware finishes and choose between conventional or prairie grille patterns to achieve a traditional look. Choose a sleek chrome or matte black hardware finish for a modern vibe, and pick between cross or custom grille patterns.
Traditional French Patio Doors
If you want a traditional look for your French patio door, go for a wooden door. Wooden French doors offer many customization options, including various hardware choices, grille profiles, and traditional colors. Pair-styled grilles with traditionally-styled wood French patio doors for the best match. Choose an Early American or Provincial interior stain and a dark exterior finish for the perfect look.
Modern French Patio Doors
Consider installing a fiberglass or vinyl French patio door for a modern look. These doors offer different features and choices that can enhance your contemporary design. Selecting a matte black sliding patio door handle and custom grilles to match your black interior and exterior frames are recommended for fiberglass sliding French doors. If you have vinyl sliding French patio doors, a white door handle with a white interior and exterior finish would be a good option.
Are French Doors Energy Efficient for Coastal Homes?
French patio doors are incredibly energy efficient. The glass used in them is often double or triple-glazed, which helps reduce heat transfer. This also makes the climate inside your home more comfortable and helps reduce your energy bills. The frames of French patio doors have excellent insulation values, helping to keep the temperature inside steady and preventing air from entering or escaping through tiny openings. French doors that open outward are usually more energy-efficient because they are pushed closed by wind and rain, which creates a tighter seal. Additionally, you can get French patio doors with weather stripping to increase their insulation further to keep the climate in your home stable.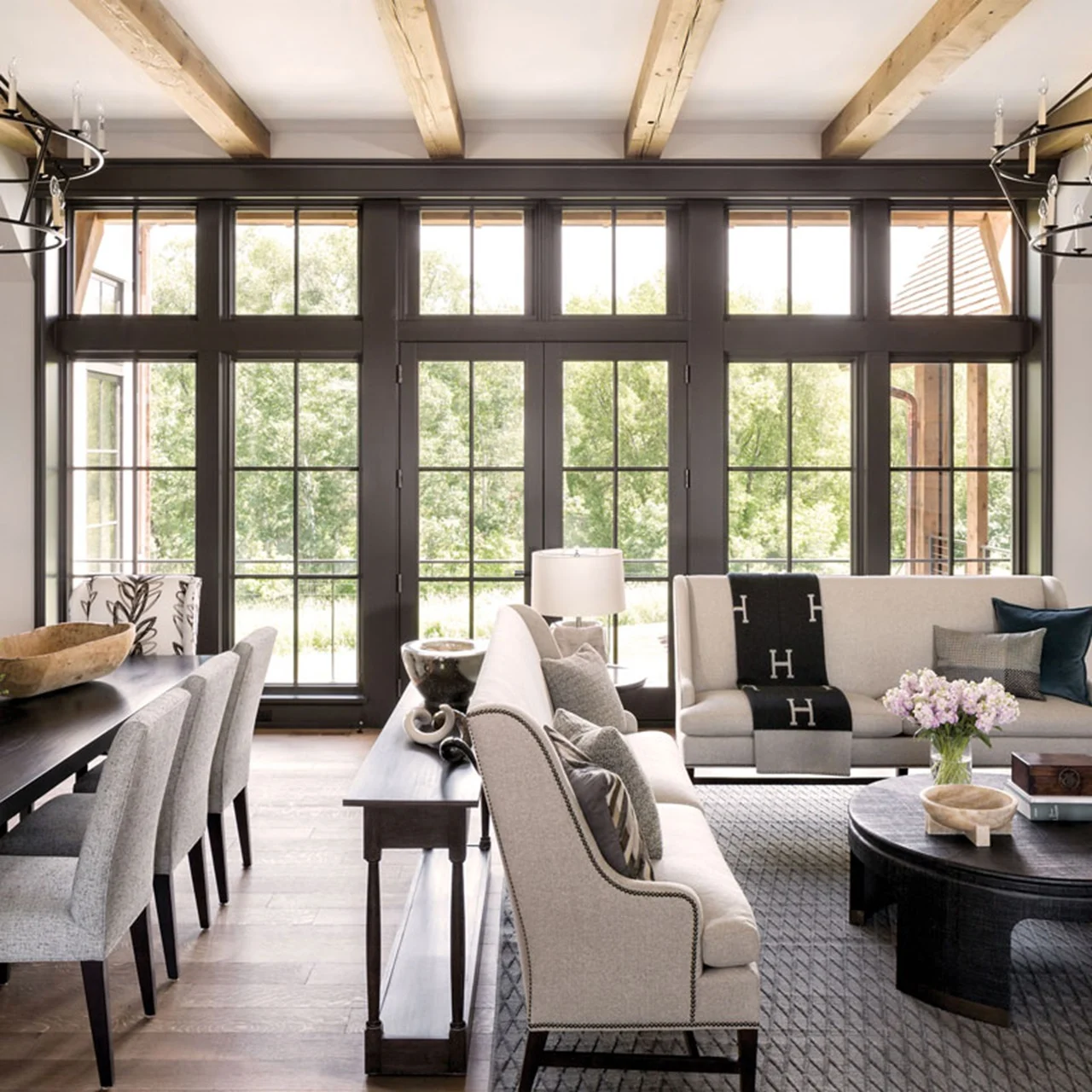 French Doors with Sidelights and Transoms
To enhance the brightness in your home and add aesthetic appeal, you can install a sidelight or transom alongside your French patio door. Sidelights are slender, vertical windows placed next to the door, while transoms are wide, horizontal windows installed above the door. Sidelights can do more than let light in. One of our manufacturers, Signature Door Inc., offers sidelights that open for ventilation.
Pros & Cons of French Doors
To determine which French patio door is best for your home, deciding what features matter most is essential. There are many benefits and drawbacks to installing French patio doors.
French Door Pros:
Increased natural light, ventilation, and views of the outdoors

Expansive glass areas for more immense panoramas

Multiple customization options; hardware, grille profiles, finishes, etc.

Improved security due to more robust and sturdier construction

Variety of materials, wood, fiberglass, and vinyl

Increased energy efficiency
French Door Cons:
Limited space due to the large glass area – less wall space for furniture or other items

Higher price tag than traditional sliding doors.

Potential difficulties when replacing older French doors because of the unique design and construction.

Moving parts need maintenance over time to continue functioning correctly.

They need extra care when cleaning due to their intricate designs.
All Glass & Windows: Your French Door Dealer
Finding the right French patio door can be tricky if you need to know what features to look for. But with our range of manufacturers, product lines, customization options, different materials, and energy efficiency options, you can find the perfect French patio door to complete your home. We are here to help ensure you have all the information you need to choose the best solution for your home. Contact us today if you have any questions about our selection of French patio doors or any other window or door needs.