Door glass inserts (sometimes called side lites or sidelights) are one of the easiest ways to take your doors to the next level of design. By adding a decorative element, door glass inserts can make a beautiful door even more spectacular. Many styles of decorative door glass inserts are available so that you can choose the perfect look for your home. These door sidelights can be clear or frosted, and they can be simple or intricately designed. You can also choose from various colors and finishes to create the perfect look for your door. So, whether you're looking for a classic or modern look, decorative door glass inserts can help you achieve the style you want.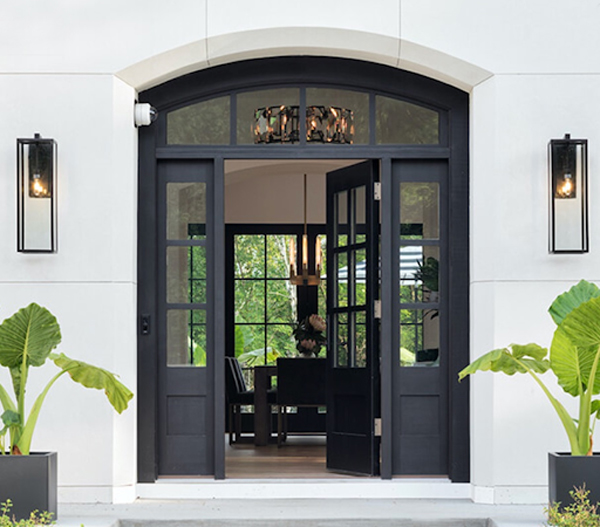 What is a Sidelight Window?
Sidelight windows are tiny vertical windows located on either side of a door. They may be put into separate rough openings, but they're generally integrated into the same frame construction as the door. Traditional sidelights are inactive and don't open or close, but some modern doors include functioning sidelights. Sidelights are often included with transom windows, which are long, narrow vertical windows positioned above the door. Sidelights, also known as sidelites, may be found on interior and external doors and are generally available in half, three-quarters, and full-length varieties.
What is a Single Door with Sidelites?
A single door with sidelites is a front door that is flanked by one or more narrow windows, known as sidelights. In addition, a single door with sidelites may also have a decorative window above the door, known as a transom. A front door with sidelights and transom is a popular choice for many residences because they provide abundant natural light and can be customized with decorative door glass inserts.
Make a Statement with Glass Door Inserts and Sidelites
Sidelights can be clear, frosted, or stained to add privacy and personality to your entryway. And, because they are narrower than traditional windows, sidelights are also an energy-efficient option. If you're looking for a front door that will make a dramatic impact, consider a single door with sidelites.
Additional features some of All Glass & Windows' manufacturers offer for sidelites in Florida projects include:
Decorative wrought-iron aluminum grills:

Wrought-iron aluminum grills are a popular decorative feature for entry doors. Decorative glass door inserts are a popular option for decorative grills. These inserts can be used to create a unique design, or to simply add a bit of privacy to a door or window. Wrought-iron aluminum grills are available in a variety of styles and designs, so there is sure to be one that perfect for your home. Ask an All Glass & Windows expert which products offer this additional feature.

Frosted decorative door glass inserts:

Frosted sidelites are a popular choice for homes because they offer both privacy and natural light. Sidelites are the narrow vertical windows that frame a door, and frosting them creates an opaque barrier that prevents people from seeing inside. At the same time, frosted sidelites allow sunlight to enter the home, providing a source of natural light. Frosted sidelites are especially popular in entryways, where privacy is desired but a bright and welcoming space is also essential. In addition, frosted sidelites can add a touch of elegance to any door, making it a stand-out feature in any home.

Etched glass door sidelites:

Etched glass sidelights are a type of decorative door glass that can be used to compliment a front entry. They are made by etching a design into the glass, which can be used to create a variety of different looks. Etched glass sidelights are a great way to add curb appeal to your home and can be used to create an elegant or rustic look, depending on the design. You can also find etched glass sidelights in a variety of different colors, making it easy to find one that compliments your home's style. Whether you're looking for a way to add curb appeal or simply want a decorative door that makes a statement, etched glass sidelights are a great option.

Stained glass front door sidelights and transom:

Often, front doors with sidelights and transom are made of stained glass. The glass is cut into different shapes and colors and then leaded together to form a design. Stained glass door sidelights come in a variety of styles, from traditional to contemporary. They can be clear or frosted, and they can be decorated with etching, beveling, or other techniques. In addition to their aesthetic appeal, glass door sidelights offer several practical benefits. They allow natural light to enter the home, which can save on energy costs. They also provide ventilation and security. When choosing stained glass door sidelights for your home, it is important to consider the size, style, and purpose of the door. Sidelights should be in proportion to the door and the surrounding windows. They should also complement the architecture of the home and reflect the personal style of the homeowner.
Does My Residence Require Impact Glass Door Inserts or Non-Impact Decorative Glass Door Inserts?
Certain standards are in place for certain Florida counties. In the Miami-Dade region, the High-Velocity Hurricane Zone is required. Most other coastal Florida cities must have Wind Borne Debris installed. For hurricane-rated doors and sidelites, severe weather door glass inserts are available. A hurricane-rated glass insert sidelight does not improve the overall door for insurance purposes if you have a non-hurricane-rated door. Please get in touch with your architect, contractor, building official, or insurance professional in your area to obtain the rating that is required for your project or purpose.
The Benefits of A Door Sidelight in Sarasota Coastal Homes and Commercial Properties
Adding a door sidelight to a residence or commercial property provides many benefits. It adds visual appeal and style to the exterior and provides additional natural light into the interior space. These door sidelights also create an inviting entryway, allowing guests to easily see who is at the door before opening it. The extra lighting from a door sidelight also increases safety and security, as it illuminates the entryway and enhances visibility. Furthermore, the extra ambient light can help reduce energy costs during the day by allowing for natural lighting instead of relying on artificial lights. A door sidelight is an attractive and functional addition to any residence or commercial property.
Learn More About Florida Coastal Entryway Doors and Door Sidelights at All Glass & Windows
If you're looking for the perfect front door with sidelights and transom for your next project, there's no better place to start than All Glass & Windows. Our consultants are experts in helping you select the right sidelites and transoms for your needs. We'll work with you to choose the perfect style, material, and finish for your door and sidelites, and we'll make sure they are installed correctly so it looks amazing and functions properly.
We are dedicated to providing our customers with the best products and services, so contact us today and see what we can do for you or call us at 941.379.9555.