Both pivot doors and bifold patio doors are beautiful additions to a coastal home in Sarasota, Florida. Pivot doors can provide a modern and sleek look, while bifold patio doors offer an open living space with panoramic views of the outdoors. These doors provide beauty and functionality to bring the outdoor elements into your home. Pivot doors are designed to open and close with a single motion, making them an ideal choice for coastal homes that may experience exposure to wind and weather. The design of bifold patio doors allows them to be opened fully or partially, creating natural airflow throughout the home while providing security. Both pivot doors and bifold patio doors can provide the perfect addition to any coastal home in Sarasota, offering beauty, style, and function.
Door Styles: What Are Pivot Doors?
Pivot doors can make an architectural statement in any home or commercial space. This door style gets its name because it rotates on a spindle instead of hinges. Initially patented in the 1970s, pivot doors are normally larger than average and are used as statement pieces in interior and exterior projects.
Depending on the manufacturer, the pattern of swing for pivot doors can have many options. The spindle (where the door rotates) can be placed in the center, left, or right side of the door. These options let buyers select unique looks for their homes or commercial spaces.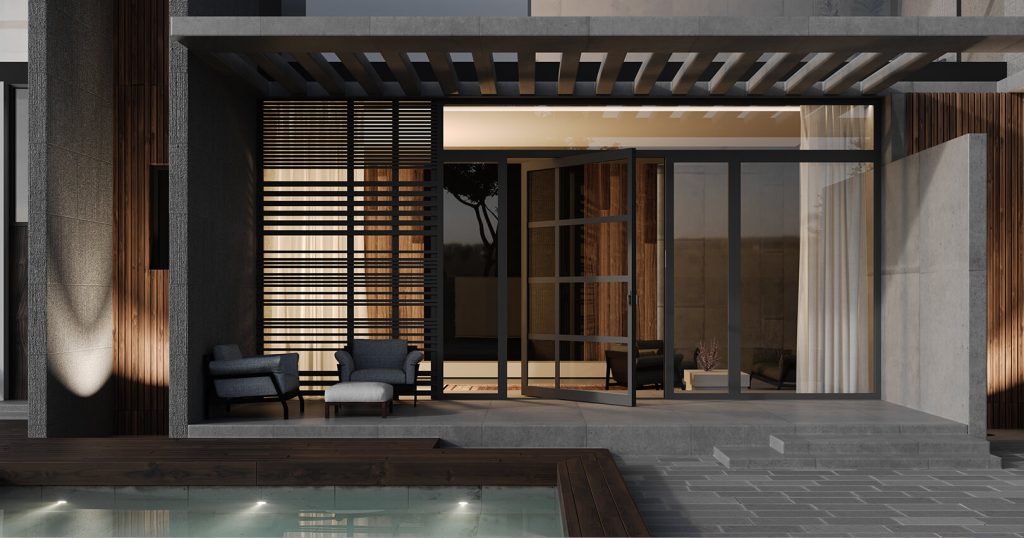 In residential projects, pivot doors are being used as front doors. Pivot door's "wow factor" makes a grand entrance for today's homeowners looking to make a grand first impression. They also work in the interior as office doors, spa entrances, workout room doors, or anywhere you may have historically considered having french doors. Homeowners are turning to pivot doors because their large glass panels create the indoor/outdoor feel, and their oversized footprint (taller and wider than most doors) is popular, along with other trending large door styles. But know pivot doors can be used in other parts of a residence:
The pantry: A pivot door is perfect for establishing a pantry in your home. No need to worry about drawing attention to this spot, as the door can easily be concealed and blend seamlessly with any interior design. The pivoting motion of the door makes it easy to bring it into line with the style of the surrounding decor.
The corridor: The corridor, which serves to join the various parts of a home together, is an ideal opportunity for architects and designers to show off their creative flair with pivot doors. This is where they can make bold stylistic decisions by experimenting with contrasting colors and diverse materials.
The office: Now more than ever, many individuals work from home. To motivate and foster efficiency in the office space, a pivot door is an ideal addition to create an inspiring look with its pleasant and tranquil atmosphere. Not only does it bring elegance to any room, but it also offers multiple practical applications for your convenience.
The Advantages of Pivot Doors Over Hinged Doors
Decidedly, this is a matter of opinion. Pivot doors aren't "better" than regular hinge doors — it's simply a matter of personal style and aesthetic, perspective, and what you're hoping to achieve with the opening, whether it be a front door, a garage fire door, or a bedroom door. There are different factors involved, but here are some things to consider when choosing between a hinged door and a pivot door. Pivot doors are highly sought after in Sarasota coastal homes that are as unique as they are breathtaking. The owners of these homes want front entry doors that blow their guests away. However, they also need all exterior doors to meet or exceed Miami-Dade County Hurricane Certification Regulations.
Door Styles: What Are Bifold Patio Doors?
Indoor/outdoor living is becoming increasingly important to luxury homeowners, and glass bifold doors make the indoor/outdoor lifestyle possible. This trend of bringing the outdoors in can also be achieved with today's bifold patio doors. This door style allows you to have multiple panes (usually, the customer can customize this depending on the manufacturer) that slide to the side to offer a full, nonobstructed view of the outdoors. Bifold doors can be thought of as accordion doors. Either all opening to the left, the right, or down the middle and folding out to both sides. Some manufacturers even make bifold doors that can meet at a 90-degree corner to open your home even more.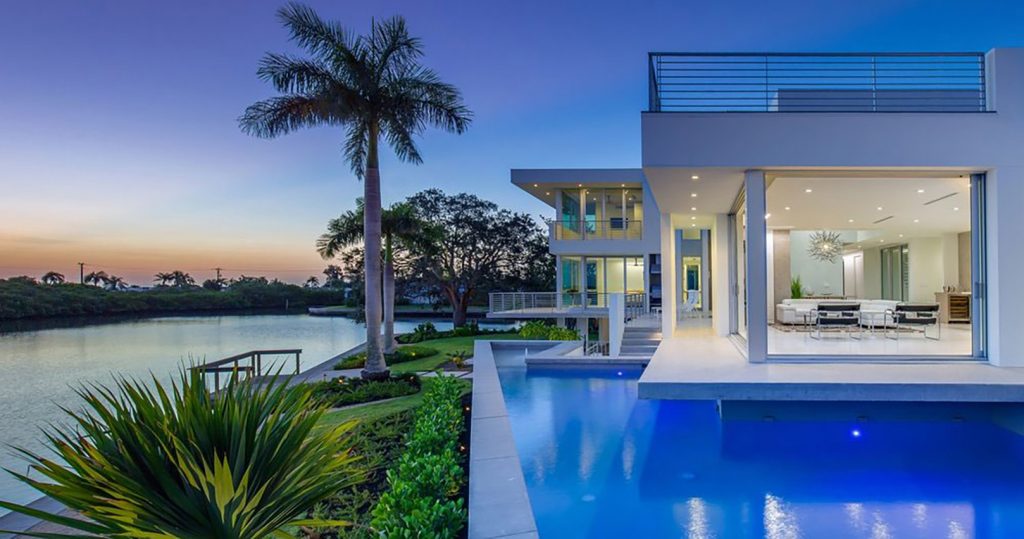 Glass bifold doors are a great option for homeowners or commercial space owners that want to have an open-air feeling with the option of being protected from the elements or only having part of their space open to the outdoors. The ability to configure how much your space you want to be exposed to the outside makes these a great choice for areas that experience inclement weather or temperature fluctuations.
The Advantages of Bifold Patio Doors Over Hinged Doors
Bifold doors are a great way to maximize space within residential or commercial settings. They open the entire room, allowing for natural airflow throughout the home while providing security. Unlike hinged doors, bifold patio doors can open up an entire wall instead of just one small area. This allows for greater circulation in the home or commercial setting and more exposure to natural light from outside. Additionally, bifold patio doors can separate two areas without bulky furniture blocking access through a doorway. This makes them the ideal solution for homeowners who want to create two distinct spaces but still have easy access between them. Bifold patio doors provide unique architectural features that add a modern and contemporary vibe to any home or commercial space.
Whether you choose a pivot door as your glass front door or patio bifold doors to open up your backyard space into your home, you will have chosen architectural details that will impress anyone that visits your house. The beauty and function of both styles make them an ideal option for coastal homes in Sarasota, Florida. Furthermore, homeowners can benefit from added security when opting for either of these door styles — since they are wider than hinged doors, it is much harder to pry them open from the outside. Whichever door style you select will provide a unique and beautiful look to your home that all will enjoy.  Your dreams of having a coastal home that brings the outside in can be achieved with these door styles.
Connect With Us:
At All Glass & Windows, we will help you find the perfect home or commercial space door. We specialize in pivot and bifold patio doors, and our experienced staff is dedicated to assisting you every step of the way. Contact us or call us at 941-379-9555 today to get started on your new door project. Our team has decades of experience installing architectural doors, and our commitment is to provide you with superior customer service, quality products, and craftsmanship. We are here to make your dream home a reality.