Sarasota Window and Glass Trends for Coastal Homes
Whether you want to add style or take advantage of energy savings, Sarasota window and glass trends can help create the perfect look for any coastal home. With partners like All Glass & Windows, architects, designers, and contractors have an extensive selection of window styles, from traditional to contemporary, so you can find the perfect window to fit your vision. In addition, our hurricane-impact windows provide peace of mind in weather conditions and help create a haven for your family. With All Glass & Windows as your partner, you can protect your coastal home while achieving your desired look. Celebrating the unique coastal views offered by Sarasosta, Florida, residences here have a unique opportunity to celebrate mother nature's beauty.
Floor-to-Ceiling Windows: Showcasing the Unparalleled Views of the Coast
Floor-to-ceiling windows are one of Sarasota's most popular trends for coastal homes. These beautiful windows let in natural light and provide a stunning view of the coast from your own home. Not only does this create a breathtaking atmosphere, but it also helps you save on energy costs by taking advantage of natural light when available. In addition, these windows can be easily customized to fit any size window opening. 
Whether you want a traditional or contemporary style, All Glass & Windows has the perfect window design to give your home an elegant touch. Our Sarasota window and glass selection offers top-quality floor-to-ceiling windows that match any home's decor. You can choose from various styles and finishes, including wood or aluminum frames, tinted glass options, and more. Furthermore, we also provide expert installation services to ensure your windows are safely fitted. Plus, our experienced team is always available to answer any questions about the process. With multiple manufacturers to choose from, All Glass & Windows offers a plethora of floor-to-ceiling window options for any Sarasota residence.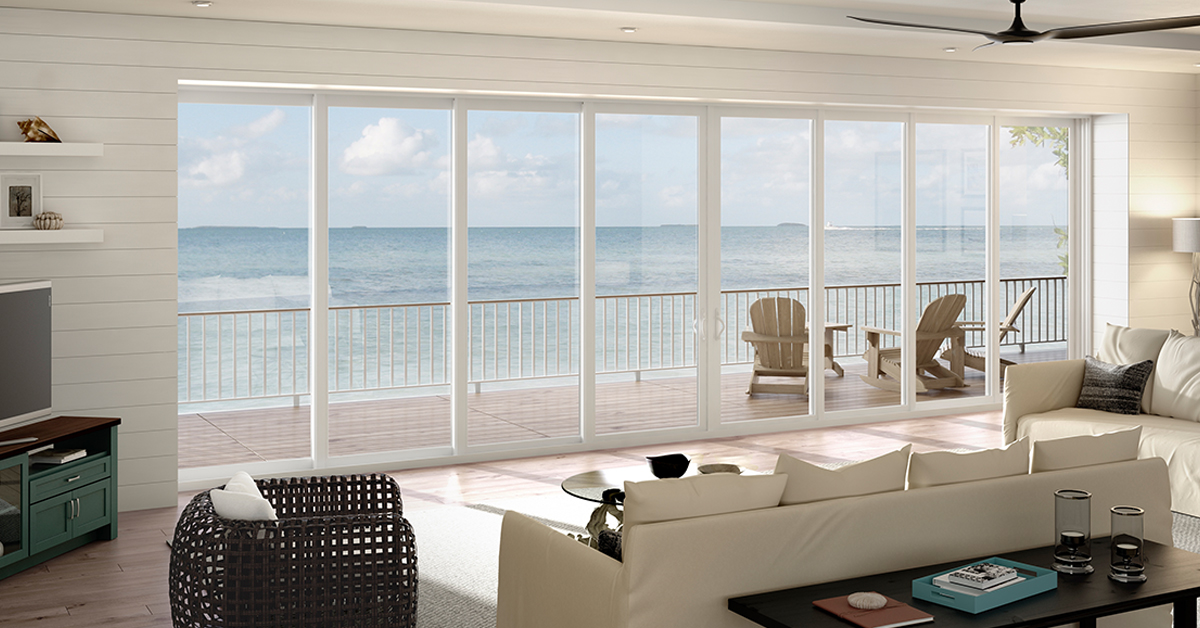 Photo Credit: PGT Windows
Improved Technology of Hurricane Impact Windows, Keeping You Safe and Secure in All Weather Conditions
When living on the coast, it is important to have hurricane impact windows that will keep you safe and secure regardless of weather conditions. At All Glass & Windows, we offer the latest technology in hurricane impact windows designed to withstand winds up to 175 mph. Not only does this provide unbeatable protection for your home, but it also gives you peace of mind knowing that your family is safe. This improved technology helps you feel secure year-round without worrying about potential damage from storms and high winds. Hurricane-impact windows are necessary for Sarasota coastal residences, but this doesn't mean that style must be sacrificed. Today, manufacturers offer oversized glass window, wall, and door installations that are all hurricane resistant and meet Miama-Dade hurricane window codes.
The Best Window Treatments for Coastal Living: Achieving the Perfect Look and Feel
A home near the coast is a gateway to a life of serenity and contentment, where you can go barefoot and witness spectacular sunsets daily. The best window treatments for coastal living can help you achieve the perfect look and feel for your home. From shutters and blinds to shades and drapes, various options are available to find something that will fit your style. Some coastal window treatment examples include:
Faux window shutters:

Faux window shutters bring an air of sophistication and timelessness to the most luxurious homes in Sarasota, Florida. From million-dollar waterfront residences to Mediterranean-style retreats, faux window shutters provide a beautiful and functional element that adds an elegant touch to any space. With authentic lookalikes crafted from premium materials like PVC or polyurethane, these faux shutters offer superior strength and stability for years of worry-free use. Plus, they come with various customization options to create a personalized style that stands out. Whether looking for traditional plantation-style shutters or something more modern and contemporary, faux window shutters are the perfect way to elevate your home's design.

Drapery:

For residences in coastal Florida homes, drapery is the perfect way to draw attention to a room's architectural features and provide privacy when desired. The airy nature of lightweight fabrics adds movement to any space while protecting it from the bright afternoon sun. High-quality materials are key for creating long-lasting drapes that will look luxurious and elegant in your home for years. Selections of bold colors or intricate patterns can create drama in an otherwise subdued space, or opt for subtle neutrals that will let the architecture shine through. Whatever style you choose, make sure your drapes add beauty and function to your coastal Florida abode.

Woven wood shades:

For residences in Sarasota, Florida, woven wood shades are a stunning addition to any home. Their intricate designs, luxurious textures, and natural materials create a unique look that will impress guests. Not only do woven wood shades bring sophistication and style to the space, but they also provide enhanced privacy from the outside world. Available in various neutral tones and patterns, these shades offer beautiful protection from direct sunlight while creating a soft ambiance for your home. Furthermore, their lightweight design makes them easy to install and maintain – perfect for those looking for convenience without sacrificing beauty or quality. You can transform any room into a timeless masterpiece with woven wood shades.

Solar shades:

The exquisite beauty of Sarasota, Florida, is only outdone by the luxurious homes in its community. Solar shades are a must-have for residences, allowing homeowners to enjoy their stunning views while reducing energy costs and protecting against harmful UV rays. With an array of color and material options ranging from sheer fabrics to heavy blackout weaves, solar shades can be tailored to fit any aesthetic. The motorized or manual operation provides convenience and ease of use, making them ideal for controlling light levels by pressing a button. Let your Sarasota home shine with custom solar shades.
Tips for Designing a Contemporary Coastal Home in Sarasota with Popular Impact Window Styles
Designing a contemporary coastal home in Sarasota with popular impact window styles is easy with All Glass & Windows. Our experts can help you select from a wide variety of windows, including sliding, double hung, casement, and more, to fit the look and feel of your home. We also offer custom designs that allow you to create something unique that reflects your taste. With our superior quality products, you can be sure that your windows will provide lasting protection while adding beauty to your home. 
For maximum protection, impact glass is a must. This type of window is designed to protect your home from the effects of severe weather and flying debris brought on by hurricanes or other strong storms. The strong framing and shatter-resistant construction add a layer of security for your family.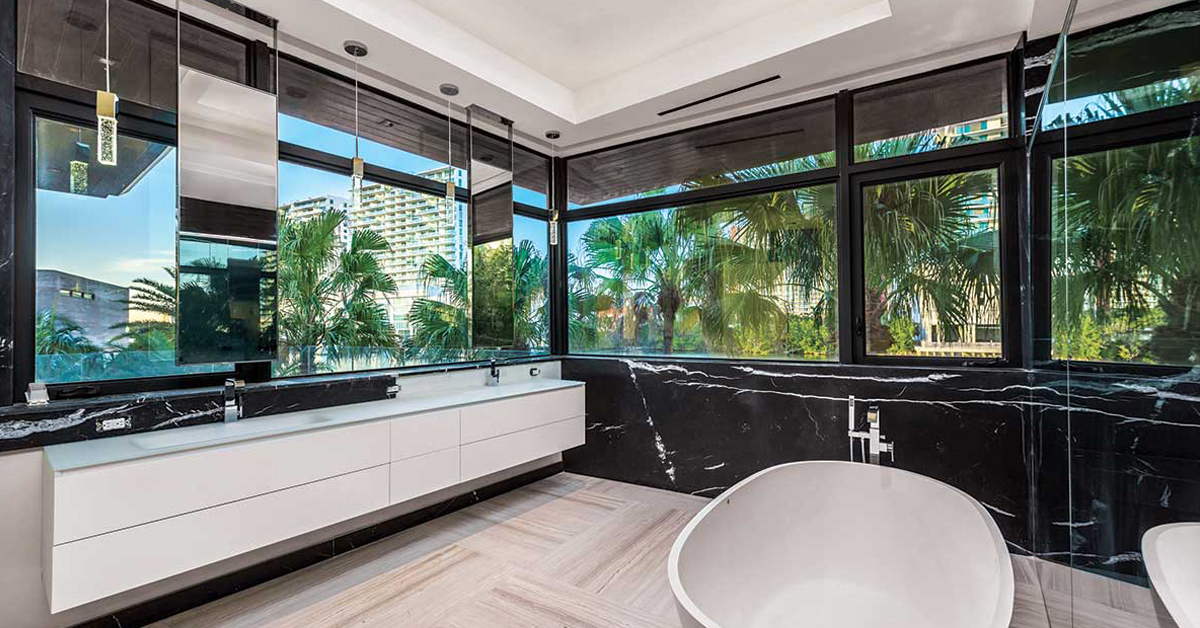 Photo Credit: Marvin Windows
To achieve an optimal look, consider mixing various styles of windows in the same space. For instance, use casement windows and picture frames to create a modern feel while maintaining functionality. You can also opt for different colors that coordinate with the décor to give the outside a vibrant touch. 
Finally, don't forget to include outdoor living spaces in your design plan. Whether you have a balcony or terrace outside one of your windows, you can create a space perfect for entertaining or relaxing. You can also add window treatments such as blinds and shades to give the room a more finished look. 
At All Glass & Windows, we are here to help make your coastal home design dreams come true in Sarasota with popular impact windows. 
Making Your Home Uniquely Yours with the Right Sarasota Windows and Glass Trends from All Glass & Windows
When making your home uniquely yours, All Glass & Windows has the perfect window, door, and glass trends for coastal homes. From contemporary styles to traditional ones, you can find exactly what you need to make your home stand out. With their superior products, energy-efficient designs, and hurricane-impact windows, they will help ensure that your home is safe and secure while creating the perfect look for any style of living. And with All Glass & Windows as your partner, you'll surely have a beautiful coastal home that stands out from the rest. 
No matter what design or look you aim for in your coastal home in Sarasota, we can help you achieve it. From the latest trends and custom designs to energy-efficient and hurricane-impact windows, we offer superior products that provide lasting protection while allowing you to incorporate a unique style into your home. With All Glass & Windows as your partner, you can create a haven of safety and beauty lasting for years.