Regarding coastal living in Florida, residents face the constant threat of hurricanes and storms. Investing in durable and reliable hurricane-impact sliding patio doors is crucial to ensure the safety and security of coastal residences. Among the various options, sliding glass doors have emerged as the perfect choice for coastal homes. In this blog post, we will explore how sliding patio doors offer exceptional hurricane resistance and protection for seaside residences in Florida.
The Need for Sliding Hurricane Impact Doors
Living in a coastal area means being susceptible to the destructive forces of hurricanes and intense storms. These weather events can cause significant damage to homes, including shattered windows and compromised entry points, leading to potential hazards and expensive repairs. To mitigate these risks, homeowners must invest in hurricane-impact sliding glass doors that withstand the powerful winds and flying debris associated with severe weather conditions.
The Advantages of Sliding Glass Doors
Strength and Durability:

Sliding glass doors designed for hurricane impact are constructed using robust materials and cutting-edge engineering techniques. They are specifically engineered to withstand the extreme pressures of hurricanes and storms. These sliding patio doors are built to resist impacts from debris and high-speed winds, offering a protective barrier against the elements.

Impact-Resistant Glass:

One of the critical features of sliding patio doors is impact-resistant glass. This glass is designed with a strong interlayer that prevents shattering upon impact. Even if the glass breaks, it remains adhered to the interlayer, preventing dangerous shards from scattering and reducing the risk of injury. The impact-resistant glass also provides an additional insulation layer, enhancing energy efficiency.

Secure Locking Mechanisms:

Sliding glass doors come equipped with advanced locking mechanisms that provide an added layer of security. These mechanisms are designed to withstand high winds and prevent forced entry, offering peace of mind during severe weather conditions. With sliding patio doors, homeowners can be confident that their homes are protected against the elements and potential intruders.

Ample Natural Light and Views:

Sliding glass doors offer exceptional hurricane resistance and enhance the aesthetics of coastal residences. These patio doors are designed to maximize natural light, flooding your living space with sunlight and creating a bright and inviting atmosphere. Additionally, sliding glass doors provide uninterrupted views of the surrounding coastal beauty, seamlessly merging indoor and outdoor spaces.

Space-Saving Design:

Glass sliding doors are an excellent choice for coastal homes with limited space. Their sleek and compact design allows for efficient use of space, making them ideal for small rooms or tight areas. By eliminating the need for swing space, sliding patio doors provide a seamless transition between indoor and outdoor living areas, maximizing the usable space within your home.
Compliance with Stringent Building Codes
Florida, being prone to hurricanes, has strict building codes in place to ensure the safety of its residents. These codes mandate the installation of hurricane-impact doors in coastal areas. Sliding glass doors designed and tested for hurricane resistance meet and often exceed these rigorous building code requirements. Homeowners can ensure they meet the necessary compliance standards while safeguarding their homes by choosing sliding patio doors from a trusted sliding glass door dealer (like All Glass & Windows).
Maintenance and Care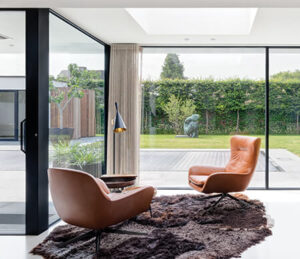 Regular maintenance ensures sliding glass doors' longevity and optimal performance. Here are a few maintenance tips:
Keep Sliding Patio Door Tracks Clean:

Periodically clean the door tracks to remove any debris or dirt that may hinder the smooth operation of the doors.

Lubricate Moving Parts:

Apply a lubricant to the door tracks and rollers to ensure smooth and effortless sliding. Confirm this is recommended by the door manufacturer.

Check Seals and Weatherstripping:

Inspect the door seals and weatherstripping regularly to ensure they are intact and functioning correctly. Replace any damaged or worn-out seals to maintain proper functioning.

Read the Manufacturer's Care Guide:

All manufacturers are different, so take time to understand if your sliding patio doors have any unique needs the manufacturer suggests evaluating. 
Sliding Glass Door FAQ: Selecting and Buying Sliding Patio Doors
Q1: Why should I choose sliding patio doors for my home?
A: Sliding patio doors offer several advantages. They provide a seamless transition between indoor and outdoor spaces, maximize natural light, save space, and enhance the aesthetics of your home. Additionally, sliding glass doors can be designed as hurricane impact doors, providing exceptional protection against severe weather conditions and making them an ideal choice for coastal residences.
Q2: What factors should I consider when selecting sliding glass doors? 
A: When selecting sliding patio doors, consider the following factors:
Material:

Choose a material that suits your preferences and climate. Standard options include vinyl, aluminum, and wood.
Energy Efficiency:

To improve energy efficiency, look for doors with low-emissivity (low-E) glass, weatherstripping, and insulated frames.
Security Features:

Ensure the doors have reliable locking mechanisms and impact-resistant glass for enhanced security.

Size and Configuration:

Measure the available space accurately and choose the appropriate size and configuration to fit your needs and the architectural style of your home. Working with a reputable designer, contractor, architect, and sliding glass door dealer will ensure the process runs smoothly.
Q3: What is the difference between standard sliding patio doors and hurricane-impact sliding patio doors?
A: Standard sliding patio doors are not designed to withstand hurricane-force winds and flying debris, while hurricane-impact sliding patio doors are specifically engineered and tested to meet stringent building code requirements for hurricane-prone areas like the Sarasota area. Hurricane impact doors feature impact-resistant glass, reinforced frames, and secure locking mechanisms to protect against severe weather conditions.
Q4: How do I ensure the sliding patio doors I purchase are hurricane-impact doors?
A: Look for doors labeled or certified as hurricane impact doors. Check for ratings and certifications such as the Miami-Dade County product approval or ASTM International standards. These certifications ensure that the doors have undergone rigorous testing and meet the requirements for hurricane resistance. A reputable local sliding glass door dealer will be able to address your home's specific requirements and needs. 
Q5: Can sliding patio doors be customized to match my home's style? 
A: Yes, sliding patio doors offer a range of customization options depending on the manufacturer. You can choose various materials, finishes, colors, and hardware styles to match your home's architectural style and personal preferences. Many manufacturers also offer different grid patterns and decorative glass options for customization.
Q6: Are sliding glass doors energy-efficient?
A: Yes, sliding patio doors can be energy-efficient. Look for doors with low-E glass, which helps to reduce heat transfer and maintain a comfortable indoor temperature. Opt for doors with weatherstripping and insulated frames to minimize air leakage and improve energy efficiency.

Q7: What is the typical lifespan of sliding patio doors? 
A: The lifespan of sliding patio doors depends on various factors, including the quality of materials, installation, and maintenance. With proper care, high-quality sliding patio doors can last 20 to 30 years or even longer.
Q8: How do I find a reputable dealer or manufacturer for sliding patio doors?
A: Research and seek recommendations from trusted sources. Look for manufacturers or dealers with a proven track record, positive customer reviews, and reliable warranties. It's also advisable to visit showrooms to see the doors in person and speak with knowledgeable sales representatives. Note, All Glass & Windows has a team with over 60 years of industry experience.
Q9: How much do sliding glass doors typically cost? 
A: The cost of sliding patio doors varies based on material, size, configuration, energy efficiency features, and customization options. As a general guideline, customized high-end sliding patio doors can cost several thousand dollars. Obtaining quotes from multiple vendors is recommended to compare prices and features. Also, ask to speak with previous customers to understand the product you're purchasing and the level of service you should expect when working with a sliding door dealer.
Q10: Should I hire a professional to install sliding patio doors?
A: Today's high-end, luxury sliding glass doors can be technically complicated. It is highly recommended to hire a professional to install sliding patio doors. Proper installation is crucial for the doors to function correctly and ensure optimal performance. A professional installer will have the expertise, tools, and knowledge to handle the installation process accurately. They can provide proper alignment, weather sealing, and secure attachment, minimizing the risk of air leaks, water infiltration, and other potential issues.
Moreover, hiring a professional for installation may also be necessary to maintain the warranty provided by the manufacturer. Improper installation can void the warranty, leaving you responsible for future repairs or replacements.
Q11: What should I expect on installation day?
During sliding glass door installation, the professional installer will carefully measure the opening, remove the old doors if necessary, and ensure a proper fit for the new sliding patio doors. They will also ensure that the doors operate smoothly, test the locking mechanisms, and make any necessary adjustments to ensure optimal performance. By hiring a professional, you can have peace of mind knowing that your sliding patio doors are installed correctly, maximizing their lifespan, energy efficiency, and overall functionality.
Sliding Glass Doors from All Glass & Windows Sarasota
In conclusion, selecting and buying sliding patio doors requires careful consideration of various factors, including materials, energy efficiency, security features, customization options, and reputable manufacturers or dealers. If you live in a coastal area prone to hurricanes, choosing hurricane-impact sliding patio doors that meet the necessary standards for withstanding severe weather conditions is crucial.
Remember, professional installation is highly recommended (and required by most luxury brands) to ensure proper alignment, weather sealing, and optimal performance. Investing in high-quality sliding patio doors and having them professionally installed can enhance your home's beauty, functionality, and safety while enjoying the benefits of abundant natural light, seamless indoor-outdoor flow, and peace of mind during storms and hurricanes. Contact All Glass & Windows and let our professional staff assist you in selecting the right manufacturer and sliding glass door for your home.