When selecting the perfect hurricane windows and doors for your Sarasota home, there are many factors to consider. The Gulf Coast of Florida is known for its breathtaking views of the Gulf of Mexico and its susceptibility to hurricane threats. This unique combination of beauty and danger requires homeowners to make thoughtful decisions regarding their home's windows and doors. This guide will walk you through the critical considerations for choosing the right hurricane windows and doors for your Sarasota property, focusing on design, function, and budget.
Focus On The Bigger Picture: Your Project's Design Aesthetic
Architectural Harmony:

Sarasota is known for its diversity, from the mid-century modern designs by renowned architects like

Paul Rudolph

to the more traditional coastal styles. When selecting hurricane windows and doors, it is crucial to ensure they seamlessly integrate with your home's architectural style. Impact windows and doors should enhance the overall visual appeal rather than detract.

Hurricane Window Styles:

Consider the various window styles available, such as casement, single-hung, double-hung, sliding, or specialty shapes. Each style has its unique aesthetic and functional benefits.

Casement windows

, for example, offer unobstructed views and excellent ventilation, making them suitable for homes with panoramic Gulf views.

Single-hung and double-hung windows

, on the other hand, provide a timeless look and are easy to clean.

Hurricane Door Types:

Sarasota's coastal charm often calls for elegant entry doors. You can choose from various door types, including single, double, French, and

sliding patio doors

. The choice depends on your design preferences and the available space.

French doors

, with their classic appeal and ability to open up spaces, are famous for coastal homes.

Color and Finish:

The color and finish of your hurricane windows and doors significantly enhance your home's curb appeal. Consider options that complement your home's color scheme and blend harmoniously with the surroundings. Many manufacturers offer a range of finishes, from classic white to custom colors, that allow you to personalize your home's exterior.

Impact on Interior Design

: Consider how your hurricane window and door choices will impact your interior design. For instance, large, strategically placed windows can serve as focal points and frame stunning outdoor views. The type of glass you choose can affect the amount of natural light that enters your home, influencing the ambiance of your living spaces.

Consider Function and Visual Impact
Selecting the right hurricane-impact windows and doors for your home in a hurricane-prone area like Sarasota is crucial beyond aesthetics and functionality. It's about safeguarding your family, protecting your property, and ensuring that your investment stands firm against the forces of nature. One of the paramount factors in this decision-making process is the type of glass you choose. The glass in your windows and doors plays a pivotal role in determining their ability to withstand hurricane-force winds, flying debris, and harsh elements while maintaining the clarity and beauty that Floridians cherish.
One of our trusted manufacturers, PGT, outlines a couple of glass options to help you better understand the benefits of these features when selecting your hurricane-impact windows and doors. Let's dive deeper into the functionality of some of these glass types:
Low-E Insulating Glass:

This type of glass is ideal for Sarasota's hot and humid climate. It reduces heat transfer, helping you maintain a comfortable indoor temperature while saving on energy bills. Low-E glass also blocks harmful UV rays, protecting your furniture and flooring from fading.

Impact-Resistant Glass:

Living in a hurricane-prone area like Sarasota necessitates using impact-resistant glass. This glass type is designed to withstand hurricane-force winds and flying debris while maintaining clarity and protection. It's a safety measure that provides peace of mind during storm seasons.

Tinted Glass:

Tinted glass offers privacy and reduces glare from the sun. It's an excellent choice for homes requiring a bit of seclusion while enjoying natural light. Tinted glass can create a more comfortable indoor environment by reducing the intensity of the sun.

Sound-Reducing Glass:

Sarasota's coastal areas can be bustling with activity, especially during peak tourist seasons. Sound-reducing glass helps maintain a tranquil and peaceful indoor atmosphere by minimizing outside noise. This is particularly important for homeowners who value their privacy and quiet living spaces.
The visual impact of hurricane windows and doors is not just about aesthetics; it's about creating a seamless connection between your indoor and outdoor spaces while enhancing the overall curb appeal of your home. Windows and doors with expansive glass and elegant designs can transform your living space, flooding it with natural light and framing panoramic views of Sarasota's stunning surroundings. Additionally, the visual impact extends to the impression your home makes in the neighborhood, conveying a sense of elegance, security, and resilience, all of which contribute to your property's overall value and desirability.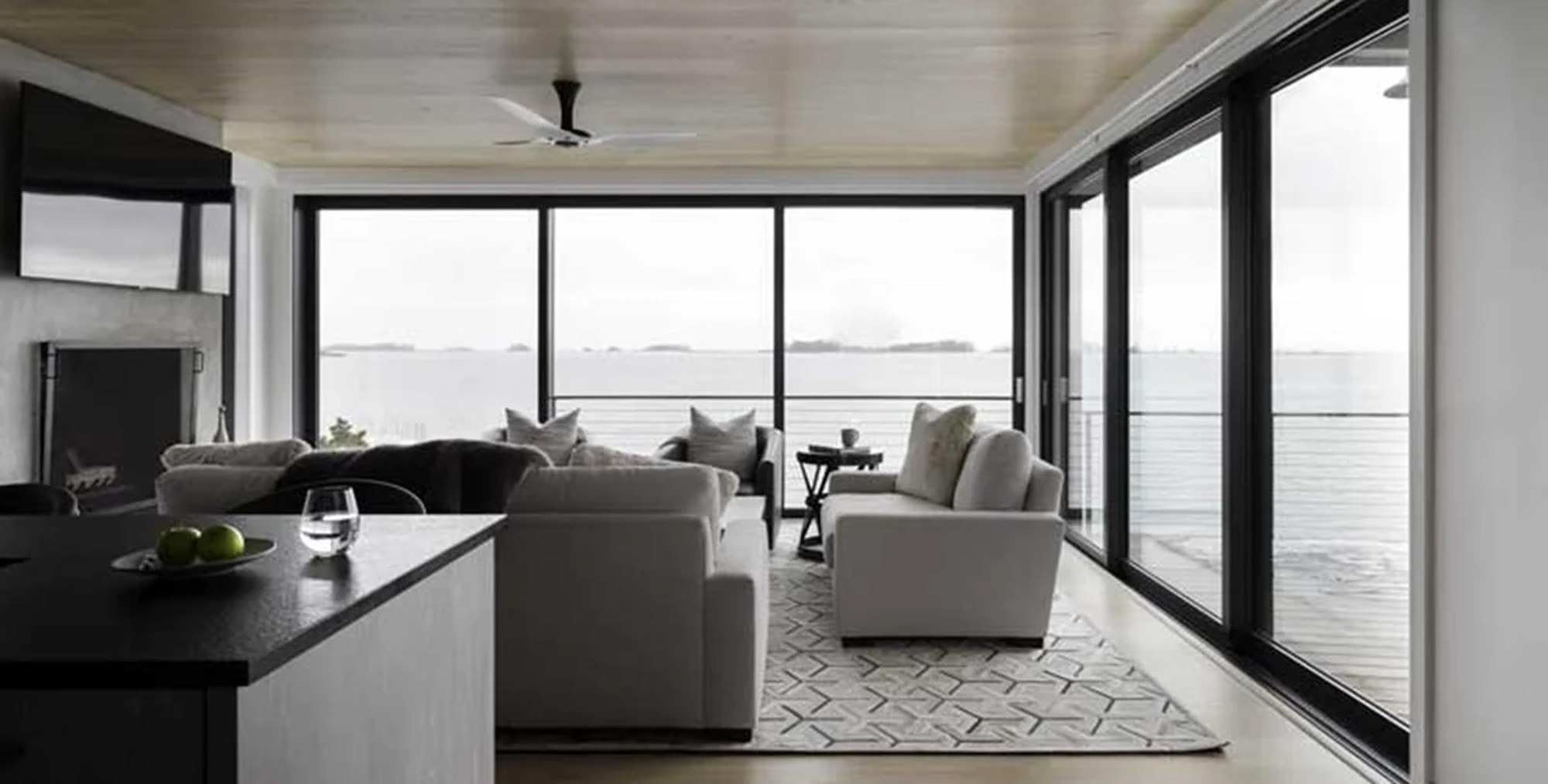 One of All Glass & Windows manufacturers, Marvin, has created a unique line to address both function and visual aesthetics for Floridians. Marvin's Coastline Series is worth highlighting regarding balancing visual impact and function. These windows and doors are engineered to excel in coastal environments like Sarasota. Here's what sets them apart:
Durable Construction:

Coastline products are built to withstand the toughest weather conditions, including hurricane-force winds. This durability ensures the safety and security of your home during storms.

Expansive Views:

Coastline windows and doors are designed with oversized openings, making them perfect for capturing Sarasota's stunning Gulf of Mexico views. The expansive glass allows you to connect with the beauty of the outdoors from the comfort of your home.

Natural Light:

These products maximize the entry of natural light, brightening up your living spaces. Ample natural light enhances your home's aesthetics and creates a more cheerful and inviting atmosphere.

Customization:

Coastline

offers customization options to align with your design preferences. You can choose from various styles, finishes, and hardware to create a look that suits your unique taste.

How to Balance Design, Function, and Budget
Mixing Manufacturers and Product Lines:

The perfect combination of design, function, and budget often involves a creative approach. You don't have to stick to a single manufacturer for all your window and door needs. Instead, consider mixing manufacturers or even different product lines from the same manufacturer to create a tailored package that meets your criteria.





For example, you might select hurricane windows from one manufacturer known for their strength and durability and pair them with elegant hurricane doors from another manufacturer specializing in aesthetics. This mix-and-match strategy lets you have the best of both worlds while staying within your budget.

Frame Types for Hurricane-Prone Areas:

Sarasota's location on the Gulf Coast means that your choice of window and door frames should be well-suited to withstand high-velocity winds and potential hurricane conditions. Euro-Wall is a manufacturer that excels in this regard.
Euro-Wall, a manufacturer All Glass & Windows works with, is dedicated to creating exceptional custom fenestration products that adhere to Florida's stringent building codes for hurricane protection. By selecting Euro-Wall products, you can be confident that your windows and doors are designed to resist the forces of nature while maintaining their functionality and style.
The frame types offered by Euro-Wall are engineered to provide maximum protection and security during hurricane events. These frames are a testament to their commitment to the safety and well-being of homeowners in hurricane-prone areas like Sarasota.

Considerations to Simplify Your Impact Windows and Doors in Sarasota
Collaborating with Professionals: Expert Guidance for Informed Choices
Navigating the world of impact windows and doors in Sarasota can be complex, but collaborating with seasoned professionals becomes significantly more manageable. Whether you engage an architect, designer, or contractor, their wealth of knowledge and expertise is a priceless resource that can help you make well-informed decisions.
These experienced professionals possess an intimate understanding of Sarasota's coastal properties, which come with their own set of unique requirements. From the distinctive local building codes that ensure structural integrity in hurricane-prone areas to the challenges posed by the region's climate, these experts are well-versed in the intricacies of the Sarasota housing landscape.
Their insights extend beyond the technical aspects and delve into design trends. They can help you identify the latest innovations in impact windows and doors, ensuring that your choices align perfectly with your project's goals. By working in tandem with these professionals, you simplify the selection process and gain confidence in your decisions, knowing that you're making choices that enhance your home's aesthetics and safety.
Partnering with an Impact Window Dealer: Local Expertise, Proven Excellence
Another pivotal step in simplifying the choice of impact windows and doors is selecting the right impact window dealer. In Sarasota, where the unique coastal conditions demand specialized solutions, choosing a dealer with a proven track record is of paramount importance.
Impact window dealers with years of experience in the region bring invaluable local expertise. They understand the nuances of Sarasota homeowners' specific needs and preferences, and this understanding translates into the ability to recommend products that are tailor-made for the area's challenges and opportunities.
These trusted dealers have weathered countless storm seasons and are intimately familiar with the performance of various impact windows and doors in real-world scenarios. This knowledge allows them to guide you towards choices that excel not only in safety and durability but also in meeting the aesthetic expectations of Sarasota's discerning residents.
Partnering with an impact window dealer in Sarasota is like having a trusted advisor by your side. Their recommendations are rooted in practical experience, ensuring that your investment in hurricane protection is a wise and well-informed one. So, when it comes to simplifying the process of choosing impact windows and doors for your Sarasota home, these professionals are your most reliable allies.

Hurricane Windows Sarasota and Hurricane Doors Sarasota: Explore All Glass & Windows
All Glass & Windows is your trusted partner in Sarasota when selecting hurricane windows and doors that combine safety, style, and functionality. Our commitment to quality and excellence sets us apart, and we proudly work with reputable manufacturers to provide you with the finest products on the market.
Here's why All Glass & Windows is the impact window and hurricane door dealer of choice for Sarasota, Florida, residents:
Trusted Manufacturers:

We have established strong partnerships with industry-leading manufacturers, including PGT, Marvin, CGI, Kolbe, Euro-Wall, WinDoor, and Signature Door. These manufacturers are known for their high-quality, hurricane-resistant products.

Diverse Product Range:

Our collaboration with multiple manufacturers allows us to offer various hurricane windows and doors to suit your unique needs and preferences. We have the right products if you're looking for top-tier protection, stunning aesthetics, or energy efficiency.

Expertise and Experience:

Our team comprises knowledgeable experts who understand the intricacies of Sarasota's climate and architectural styles. We leverage our experience to guide you through the selection process, ensuring you make informed decisions that align with your project goals.

Safety and Security:

We prioritize the safety and security of your home. Our manufacturers' hurricane windows and doors are rigorously tested to withstand the forces of nature, providing you with peace of mind during storm seasons.
In conclusion, choosing hurricane-impact windows and doors for your Sarasota home is a significant decision that involves careful consideration of design, function, and budget. You can balance style and safety perfectly by collaborating with professionals, selecting suitable glass types, and choosing reputable manufacturers. All Glass & Windows is here to assist you on this journey, offering top-quality hurricane windows and doors that enhance the beauty and protection of your Sarasota home. Contact us today to explore our wide range of options and embark on the path to a safer and more visually stunning living space in Sarasota, Florida.